I've been watching The Great British Sewing Bee on line.

One of the season 2 competitors, Heather, uses a stuffed dog as a pin cushion.
I was in LOVE with this pin cushion, and decided that I need one.
There are, literally, hundreds of free patterns for stuffed animal on the internet.

I wanted one as close as possible to Heather's, and found this Dachshund, which looks pretty close in structure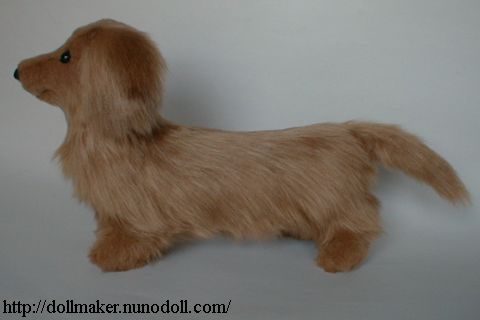 I haven't made stuffed toys since primary school, but really, how hard could it be?
The pattern was shown made up in a fake fur.

While this makes a more realistic dog, realistic wasn't what I was aiming for.

Like many sewers I have piles of left over fabric which is too small for a garment, so I pulled out a tweedy fabric in pale brown and some scraps of a paisley print and an orange furnishing fabric.
Unfortunately I underestimated the task.

I rushed in and wasn't as careful cutting and stitching as I would have been had I been sewing a new garment, and it showed.

This finished dog was lumpy, lopsided and doesn't stand up.
While it would function as a pin cushion, I was not happy – I wasn't ever going to love it.

In fact, every time I looked at it I was going to be reminded of my own sloppy workmanship.

:(
Not to be deterred, I went back to the pattern and the instructions.

The instructions have clearly been written by someone who speaks English as a second language, and although they are mostly understandable I had misinterpreted the phrase "
Required the seam allowance of 5-7 millimeters."

I assume it meant that there were seam allowances of 5-7 mm included on the pattern pieces.

With hindsight I now realise that seam allowance need to be added to the pattern pieces when cutting.

Since the pattern includes several inserts to give the dog a three dimensional shape, without seam allowances the pieces didn't fit together properly.

Forcing them to fit together had distorted the finished dog.
Once I added seam allowances, and slowed down, the pattern fit together perfectly.

It's not a beginner's pattern because of the curves and inserts, not to mention the slightly jinglish instructions, but that said, it's fiddly but not technically difficult.
Tackling it for the second time I used a chambray that I had spilt coffee on, but I was able to cut round the stained parts.

I also used some royal blue cotton and a small amount of a dolphin craft print.
Heather's original pin dog was made of a variety of fabrics, so I was happy with a mix of fabric.
I used a different fabric altogether for the tail, and stuffed it with two pipe cleaners to encourage it to stand up.
For the first dog, I stuffed it with fabric pieces,( mostly spewed out of the overlocker).

Convinced that this had contributed to the lumpiness of the finished dog, I bought a half kilo of proper stuffing for this one.

I took quite a bit of time stuffing, making sure that the feet, legs and head were tightly packed before stuffing the body.
The result this time is more pleasing.
He's not perfect, but he's much better.

His head is permanently cocked on one side...
...but I've met real dogs like that!

He stands up most of the time, and I love the way his tail sticks up!